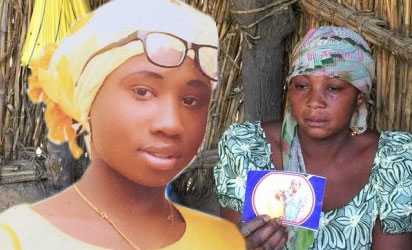 I hope we will still remember her in the next six months or one year. Leah Sharibu, I mean. She is one of the 110 girls abducted by the Al Barnawi faction of the Boko Haram terrorist group on February 19, 2018 from the Government Girls Science and Technical College in Dapchi, Yobe State.
She was 14 years then. On Monday, May 14, she turned 15. A birthday that should have called for celebration became a sad reminder of her frightening fate – 83 days in captivity. Her highly distraught mother was inconsolable. A flood of tears bore testimony to her anguish.
The teenager's case is disheartening. An ardent Christian, her abductors made the renunciation of her faith a precondition for her release. She refused, preferring captivity and possible death if need be. Had she decided otherwise, Leah would have been freed on March 21, together with 104 other colleagues.
We are told that five of the hapless girls died in captivity. It is instructive that almost two months after, the identities of the dead girls remain a mystery.
Government's seeming lack of interest I still have my doubts just like many other Nigerians about what really happened in this Dapchi abduction saga. But that is a story for another day. What worries me today is government's seeming lack of interest in bringing back this remarkable girl with uncommon courage.
Some Nigerians living in denial try not to clothe the Boko Haram terrorists and Fulani herdsmen in religious garb, but Leah's case has put a lie to the façade, becoming, as it were, a defining moment. It also put the President Muhammadu Buhari-led administration in a quandary.
On what condition did the terrorists release the other girls, keeping back the Christian among them? Did the government know of the intention of the terrorists to hold on to Leah as a trophy? How much was paid to secure the release of the other girls? How much more do they want to release Leah Sharibu? Or they just want her to become a Muslim before they will open the gates of heaven for her? On her birthday, Leah's father, Nathan Sharibu, accused the federal government of abandoning his family.
"It is very sad and the family is very weak," he said.
"To be honest, I have not received any support from the government but from the community and church members, I thank God because they have been encouraging me, lifting me through their prayers, visitation and words of advice.
"I have not heard anything from federal, state and local governments since my daughter was abducted. I am even confused now."
He pleaded with Nigerians to mount pressure on the government to do something about his daughter's unnerving fate.
The advocacy group, Bring Back our Girls (BBOG), also accused the federal government of abandoning Leah's family and the Dapchi community. Oby Ezekwesili, Aisha Yesufu and Florence Ozor, leaders of the group, insisted on Monday that there was no reason why the arrangement made by the government to secure the other girls' release should leave out Leah.
"Leah Sharibu, the only #DapchiGirl who remains in captivity (for refusing to renounce her faith and convert to another religion) turns 15 years of age today," the group said in a statement.
Read more : here