Former Super Eagles of Nigeria  striker, Julius Efosa Aghahowa has been recognised by FIFA for the celebration he enacted after scoring against Sweden at the 2002 World Cup. FIFA's citation for 'Agha-Wonder' came on the occasion of his 37th birthday, for which the global body recounted how he wowed soccer fans with multiple-flips in his legendary acrobat style of celebrating his goals.
Incidentally, it turned out to be Nigeria's only goal at Korea/Japan 2002, in which the team first lost 1-0 to Argentina and drew goalless with England in their last group match, to stumble out of the contest.
However, the goal and celebration by 'Aggie' style ardent hold soccer fans spellbound worldwide, especially with the match commentator adding spice with his wild repetition in describing the striker's somersaults.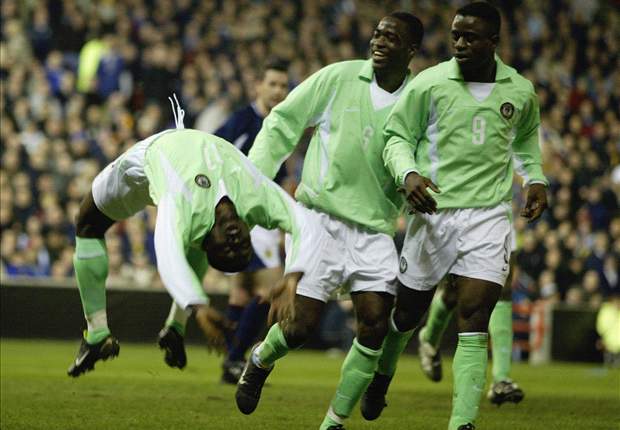 'On and on and on and on,' the commentator screamed with delight, such that FIFA cannot be faulted for remembering the captivating scene all of 16 years on, and honouring the man who enacted the feat.
The global soccer body stated gleefully: "A great header. An even better celebration. @NGSuperEagles' Julius Aghahowa.
"The man responsible for these 2002 #WorldCup acrobatics, turns 37. What do you think is the best #WorldCup goal celebration of all time?"
Aghahowa played 32 matches and scored 14 goals for the Nigerian national team. He became Nigeria's top goalscorer at the 2002 African Nations Cup. He also played at the 2000 Summer Olympics.
Meanwhile,  Arsenal of England youngster, Folarin Balogun has admitted he is excited to sign his first professional contract, which he says he cherishes a lot. Balogun was all smiles, as he put pen to paper on the dotted lines in London, and stated afterwards that it is a dream come true for him.
The 17-year-old Balogun has been with Arsenal's academy since age ten and has played for The Gunners are various grades, before finally heralding his arrival on the big time this season. Balogun has already scored 13 goals in 13 games for Arsenal's under-18 squad, while helping them up to second on the Youth League table.
However, he is not seriously thinking about a future playing international football for Nigeria, as he is already in England's youth squad and is also eligible for United States of America. Though he has played for USA and England at under-18 grade, he could be urged to make the switch if pressure comes from Nigeria Football Federation (NFF) early enough.